[For the purpose of this post, where I have waxed idiomatic I have attempted to provide a link to a definition of said idiom.]
The Letterman-Palin nonsense and a post on my local pagans elist got me thinking about outrage addicts and the difference between them and Lokisghodi, modern sibyls, contrarians, devil's advocates and other people who find themselves dedicated, for whatever reason, to seeing the "
other hand
" in any conversation.
An outrage addict [literally: One who has an addiction to feeling outrage about something, anything...] has to react to any statement, even those posted in the
first person singular
by using logical permutations outside the capacity of most people, largely turning those "I" statements into claims of moral superiority or some other thing they clearly are not to any reasonable person.
A joke about Palin's "daughter" getting "knocked up," is seen by the majority of people as being about the Palin that got knocked up. Outrage addicts, like the Palins, turn this into a rant about child sexual abuse, which no reasonable person would've seen coming, but since we all think child sexual abuse is bad (and so we should) the outrage addicts feel vindicated, because the deserved laughter at their escapades becomes
argumentum ad numerum
about child sexual abuse. "The majority stands with me, and the majority is right."
The simplest way to vent one's outrage addiction and feel that you're comfortably in the
numerum
is to quote a bunch of websites and get very '
inside baseball
' about some point of the 'offending' post, allegedly making you look very smart, but to those of us who've been around teh internets for a while makes you look like you're a newbie who just discovered google. Usually you have to take one point of your 'opponent's' statement, no matter how
tangential
, and literally pile on the facts about that tangent. The more paragraphs and links you can post, the more likely that people reading it will have their eyes glaze over and you can feel that you're in the
numerum
because no one is going to argue with you...because they really don't care...
The flaw in this if you are said outrage addict isn't that you are posting mounds of data no one really cares about, but the simple fact that you're considering the other guy your opponent. It's actually very unlikely the poor sap you're going all
numerum
against is considering you an 'opponent,' in the first place, and if he's smart, he's going to react to your outrage by giving you an apology you don't deserve. If he's extra-clever, or perhaps an Amber DRP player, you may get what appears to be an apology, but is in fact a recognition that you have an ego problem and you need soothing: "You seem really unhappy about this, I'm sorry if I've done anything to upset you." = You are a nut, you win, your cock is big, have an internet! (please go away!)
Unlike our outrage addicts, an other-hander is going to take the statements of *everyone* and wonder at the broader implications thereof. If, for example, you claim any given fact is belived by *all* people, your other-hander, for whatver reason, is going to wax Socratic at you and ask if it's truely *everyone* who thinks whatever you're claiming they do. The way to deal with these people (who are usually more involved in keeping themselves honest than everyone else and are only expecting you to try to meet some minor level of standard of honesty) is not to award them one internet, or to try to show them the size of your google-cock by cutting and pasting, but to go "you know, probably not everyone, but it seems like everyone to me," (and in the future, stick to saying things like 'it seems like a majority of people I meet") and recognise that they really are teaching you a lesson...and themselves a lesson. You've just had your sloppy thinking fixed!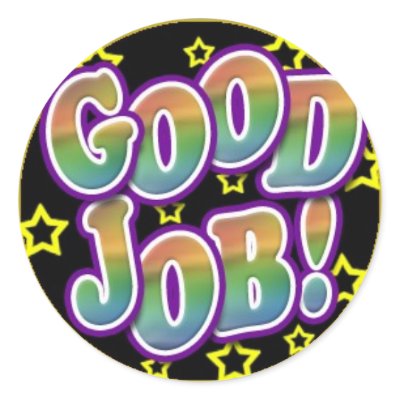 An outrage addict, however, can *never* back down once they feel their imagined google cock-size has been challenged. They will have to respond even to an "I'm sorry" with a last word. Their "test" isn't complete until the teacher has placed a
scratch-and-sniff sticker
on the paper telling them they've done
berry good.
Unfortunately for you, if you're caught in this situation, their 'berry good' is you going away for a while.
If you are really into truth, the temptation to respond to their last word is huge. You want to slam the hell out of their immature little egos, and make them go away instead. At this point, you've moved away from being contrarian, or a truth-speaker, and become a troll baiter. If you can't avoid responding, try this one: "I can't help but feel I have done something to threaten or upset you. Perhaps you can email me privately and we can attempt to resolve this difficulty. I hate to waste valuable [list, forum, web] space with a conversation that's really only between two (or three, or four) people." Now if they continue you just go straight to the list or forum mods, or repeat the request to go private. Remember, they need to feel that they are in the
numerum

,
so privacy is terrifying.... they lose their majority that way!
DO NOT RESPOND in anger...at this point your outrage addict has gone into full blown troll mode. Do not give them something to latch on to so they can feel oppressed...it will make them more and more insane. If you're fortunate, like Letterman, the insanity will cause them to explode in a fit of pique and lose all credibility, making your humor about them poignant as long as you drop it within a few days (its probably okay to gloat a little.) If you're not, you should probably take a vacation from the forum or list. If their gauntlet goes unanswered for a few days some trollbait is going to pick it up, and the outrage addict is going to eventually piss everyone off enough that you're going to be seen as a hero for challenging them before anyone else did.
Remember that the outrage addict will only get their kicks by seeing those they've decided are opponents removed from lists or forums, or leave in disgust...so don't give the mods a reason to kick you...it just makes the addicts worse.